By Olivia S. Rissland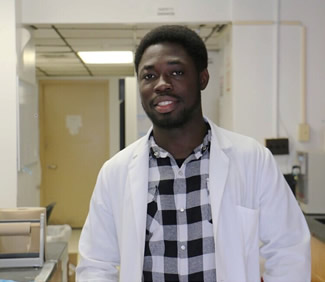 Solomon Haizel hails from Ghana and earned his Bachelor's of Science degree in Biochemistry from the University of Ghana with First Class Honors. After spending a few years as a high school biology teacher, Solomon joined the graduate program at City University of New York (CUNY)–Hunter College in 2015 and is now a fourth-year Ph.D. student in the lab of Professor Dixie Goss. His project focuses on how elements in the 5′ untranslated regions of mRNA regulate translation initiation. In particular, he hopes his research will help explain how translation of cellular mRNAs can switch from the canonical cap-dependent initiation pathway to one that involves cap-independent initiation during stress conditions.
Although an international student, Solomon's process for selecting a graduate program and thesis lab mirrors that of many domestic students. As Solomon explained, "I was looking for an opportunity to indulge my creative side, to tackle new scientific challenges, and to increase my understanding of biological systems." That CUNY graduate school has "a tradition of welcoming international students from all walks of life, made my decision easy." When it came to choosing a lab, Solomon wanted "an experienced mentor with great connections who could inspire and guide me—also, the Goss lab was starting a new project on cap-independent translation in cellular mRNAs, which I was excited about and I felt that I could contribute to."
"Your passion and desire is what will keep you going"
Since starting graduate school, Solomon's biggest surprise has been that there are more failed experiments than victories. "Overcoming this hurdle," he said, "meant I had to learn how to be more patient, to troubleshoot my experiments, to celebrate small victories, and to understand the value of good team members." Another key element in research for Solomon is passion—"irrespective of how smart or how skilled you are, your passion and desire is what will keep you going, even though there will be obstacles along the way."
This past summer Solomon attended his first—but not last!—RNA Society meeting. "As an RNA Society meeting newbie," he said, "I enjoyed every aspect of it, from the talks and posters (especially those on protein–RNA interactions) to taking part in the mentor-mentee lunch." His favorite moment, however, came at the banquet on the final night when he sat with Professor Marit Nielsen-Hamilton, who shared with him her own scientific journey. He said that "listening to her as she shared her experiences was even more inspiring because I gained valuable new perspectives about my own research career—and the best part was that she also listened to my scientific journey and offered great advice."
For those who will be joining us for the first time at the 2019 annual RNA Society meeting next June in Krakow, Solomon has three pieces of advice. "First, use the meeting to learn some new scientific technique or discovery. Second, share your research with as many people as you can, and be open-minded about theirs. And finally, get out of your scientific comfort zone."
Solomon's favorite RNA is mRNA because "it encodes proteins and provides a platform for other RNAs, like tRNA and rRNA, to be useful." If you want to hear more about Solomon's experience as a first-time attendee at an RNA Society meeting, you can find him on Twitter (@hsolomonattah), Instagram (@SoloHaze20) and Facebook (Soloweezy Haizel). When you do connect with him, be sure to ask him why Alfred Hershey is his all-time favorite scientist!