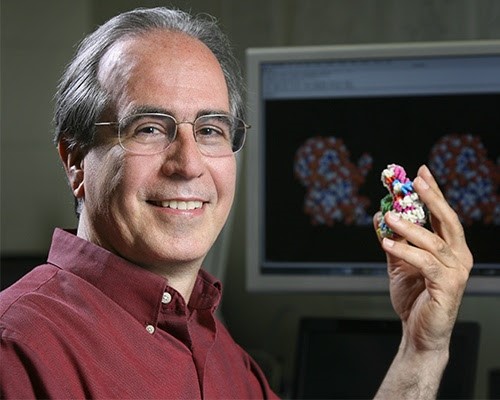 photo credit : BGSU Marketing and Communications
Our friend and colleague Neocles B. Leontis died on December 8, 2020 in a car crash in Bowling Green, Ohio.  This is a huge loss to the RNA community. 
In the 1980's and 1990's, Neocles worked on 5S rRNA and the non-Watson-Crick paired regions within it, in particular the Loop E region.  As it became clear that the loop was structured by non-Watson-Crick basepairs, he predicted that other RNAs having certain sequence variations would have the same 3D geometry.  After ribosome 3D structures were solved, he and Eric Westhof proposed a systematic nomenclature for non-Watson-Crick basepairs and predicted which sequence substitutions would preserve the local geometry and thus occur by random mutations.  Neocles pursued a long-term goal to identify the 3D motifs in RNA 3D structures, their likely sequence variability, and to identify new instances from sequence alone.  He and his group at BGSU created the FR3D program to annotate Leontis-Westhof basepairs and to find all instances of a given RNA motif, leading to the introduction of the RNA 3D Motif Atlas.  He studied the constraints on sequence variability due to basepairs, base-phosphate interactions, and other interactions, and applied those to known 3D motifs.  He finished this line of work with the JAR3D program which maps novel loop sequences to 3D geometries, such as that of the Loop E motif.  Recent work applied these ideas to 3D motifs in the Potato Spindle Tuber viroid.
Annotation of recurrent features in RNA 3D structures was an enduring passion of his. Neocles recognized the importance of having standard terminology for the features in RNA 3D structures and led the effort to create an RNA Ontology. He worked closely with the Nucleic Acid Database project to develop tools to classify and display base pairs in RNA and later to include RNA motifs as part of the NDB. Shortly before he died, Neocles was funded by NIH to create a Nucleic Acid KnowledgeBase that would build on the NDB and expand the annotations for all nucleic acids.
In addition to his academic pursuits, Neocles was passionate about environmental and social justice issues and was an active elected member of the Bowling Green City Council. He will be missed by his many students, colleagues, and friends.
Helen Berman and Craig Zirbel