By Nandini Kundu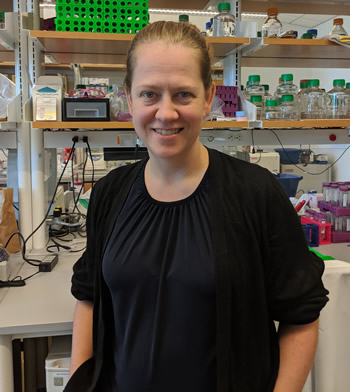 Dr. Anna Loveland is a post-doctoral researcher in Dr. Andrei Korostelev's lab at University of Massachusetts Medical School, where she uses cryo-EM techniques to study ribosome structure during mRNA translation and peptide elongation. Born in Poland, she moved to the US with her family as a child. She had an early exposure to science—from her mother's botanical mini-lectures and her father's computer programming lessons to her first microscope— and these formative experiences fueled her curiosity.
Dr. Loveland's first research experience came when she was an undergraduate at Johns Hopkins University in Dr. Rachel Green's lab. From here, she then earned her Ph.D. from Harvard University, where she worked with Dr. Antoine van Oijen and Dr. Johannes Walter to study DNA replication with single molecule techniques. As she gathered a deeper insight into the DNA replication machinery, she realized that she really wanted to "see" them at work. This motivation led her to take up a post-doctoral position in 2012 in Dr. Niko Grigorieff's lab at Brandeis University, where she learned cryo-electron microscopy and worked on different projects, including structural studies of the spliceosome and the study of stringent response activation on the ribosome. However, as both her post-doctoral advisors Dr. Grigorieff and Dr. Melissa Moore left their positions at Brandeis and UMass respectively, she transitioned to working with Dr. Korostelev in 2016 and returned full-time to her first scientific love: the ribosome. Throughout her career, Dr. Loveland has drawn inspiration from her advisors and mentors over the years: Rachel Green, Elaine Youngman, Antoine van Oijen, Johannes Walter, Niko Grigorieff, Melissa Moore, and Andrei Korostelev. She explained, "I have been very fortunate to work with these people all of whom are passionate about science and who put in the long hours to advance it while being supportive of their trainees."
"Always be on the lookout for the unexpected!"
Currently, Dr. Loveland is most excited about her work using cryo-EM to visualize the ribosome during mRNA decoding and peptide elongation. "Recently, we've captured over 30 states along this pathway at near-atomic resolution (3–4 Å). This project brings me back full circle to a project I was involved in 15 years ago as an undergraduate in the lab of Rachel Green where I worked with her graduate student at the time, Elaine Youngman." She continued, "In those days, the first X-ray structures of the ribosome had just revealed the conserved RNA cores of the peptidyl transferase center and decoding center, and we used mutagenesis and in vitro assays to elucidate the roles of conserved RNA residues during translation." As a post-doc, she now visualizes the same process using cryo-EM—"it's a dream come true!"
In thinking about advice for other trainees, Dr. Loveland emphasized that "you need to work hard if you want to succeed. But it is more important to be mindful of how the hours are being spent than how many hours are being spent." She also brought up the importance of asking for help. "Rather than repeating something that has failed more than once," she explained, "see if anyone around has useful advice. You might learn something small—or deep—that could make all the difference." And, finally, "always be on the lookout for the unexpected! More often than not, scientists stumble upon something completely new and amazing. That's the beauty of working in biology."
An active member in her local scientific community, Dr. Loveland also enjoys traveling to international conferences every year because "one-on-one conversations with other scientists often lead to new ideas and solutions." One of her favorite conference memories is from the Annual RNA Society meeting in 2018 in Berkeley. "I ran into my one of my undergraduate mentors, Elaine Youngman, and we both remembered all the fun times we had shared—including all those tough experiments that continue to inspire us!"
Dr. Loveland's favorite RNA is a tie between tRNA and rRNA. She isn't active on social media (except for LinkedIn), but she is always available via email.