By Carla C. Oliveira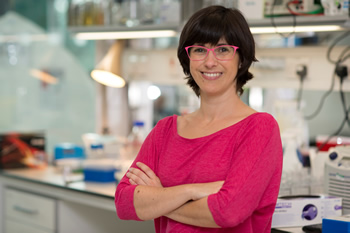 Dr. Ana Casañal has "always been interested in understanding how macromolecular machines work within the cell." After receiving her Bachelor's and Master's degrees from the University of Malaga in Spain, this interest then led her to pursue doctoral studies under the joint supervision of Dr. Victoriano Valpuesta (at the University of Malaga, Spain) and Dr. José A. Márquez (EMBL-Grenoble). In her graduate research, Dr. Casañal used crystallographic methods to understand the function of the Fra allergen proteins in plants. She explained, "I am fascinated by how we can conceptualize proteins using different structural biology techniques, and that this can provide insight into how the protein works at molecular and atomic levels as well as its role in fundamental biological processes."
It was after hearing a lecture by Nobel Laureate, Dr. Ada Yonath, however, that Dr. Casañal became fascinated by transcription and translation.  Motivated by this fascination, Dr. Casañal decided to pursue post-doctoral research with Dr. Lori Passmore (MRC–Laboratory of Molecular Biology, UK), who couples structural and biochemical approaches to investigate the machines that both create and degrade RNA.
"I am fascinated by how we can conceptualize proteins using different structural biology techniques"
Casañal began her post-doctoral research in 2014 with characterizing, the eukaryotic mRNA cleavage and polyadenylation factor (CPF)—a multi-protein complex that cleaves RNA, adds a poly(A) tail, and dephosphorylates RNA polymerase II. A major question at the time was how do the three CPF enzymatic activities work in a coordinated fashion? As part of a team, Dr. Casañal worked on answering this question, and their efforts resulted in the first cryo-EM structure of the CPF protein complex, which helped to reveal how its nuclease, polymerase and phosphatase activities are organized in modules. This project enabled Dr. Casañal to make full use of her previous expertise while also learning cryo-EM. In recognition of the impact of her findings, Dr. Casañal was recently awarded the 2019 Biochemical Society Early Career Research Award: Genes.
According to Dr. Casañal, each new project has brought new challenges, which she overcame by finding the right people to train and work with. Her graduate and post-doctoral supervisors have been especially crucial—"from them I learned perseverance, a love for structural biology, and a passion for teaching." Indeed, Dr. Casañal considers teaching as an important aspect of her scientific career; she is currently involved in instructing a number of courses and workshops where she shares current methods in cryo-EM, including model building and sample preparation. She explained, "my teaching gives me extra motivation to be on top of my field, and also helps me network."
The advice she has for other junior researchers who are beginning to think about post-doctoral research: "think ahead and look for a lab where it is possible to learn new methods that ideally will complement previous expertise/" She added that it is also important to embark on an exciting project and to find an environment where support will be provided for the next steps in your career path.
Dr. Casañal's favorite RNA is messenger RNA, which is cleaved and polyadenylated by CPF. She can be found on social media at Twitter @AnaCasanal.